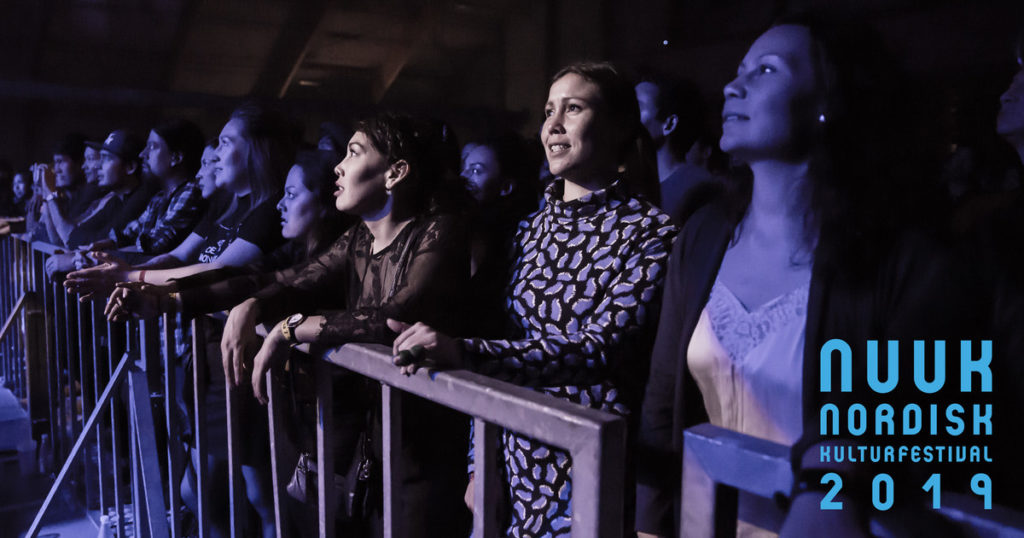 I was honoured to visit and partake in The Nuuk Nordic Culture Festival this year, held in Greenlands capital. A young festival, held biannually, and in its third installment in 2019. But despite it short life-span, it was immediately clear that ambitions – and spirits – were high. The organisers, together with participating artists and the people of Nuuk, were determined to put a mark on Nuuk's culture life this autumn, by inviting expressive souls all over the north/arctic to come and share their art/minds/creations. Music, films and photography, sure. But also fashion, folk-art, broderie, food, books, poems, panels, theatre, speeches, lectures … and dance. Just about everything under the glacier sun really.
Madelaine Goordon Graadahl, one of the festivals co-ordinators, had this to say, when asked by your truly:

"The original mission with the Nuuk Nordic Festival was to bring all the nordic countries closer to each other We believe that the people in the north can learn a lot from each other by knowing each other even better than they already do. That can be done by sharing the ideas, talents and cultures that we have."
This writer also noticed an emphasis on getting the "man on the street" involved, celebrating everyday culture and art and getting people to co-create. Graadahl confirmed, that this was indeed the manifesto: "We really want to be a festival where everybody can participate. We want to stand out from other festivals where you as a new artist just show up, play your concert or perform your piece of art and go home afterwards. We want to create a platform where the artists can creative new relations and new artistic networks."

And I can confirm everything that Graadahl is stating. You turned a corner, and there was an artist, getting a help from a poet and a guitarist in setting up an impromptu piece. At nights, people could perform whatever they wanted at special "open mic" nights. In chats, I found out that this Farose artist had just recorded with a Greenlander in an Icelandic studio. And similar stories like that. A connection, working relationships that started to gel at this very festival two years ago.

This was my first visit to Greenland so much of my time and energy went simply into processing all the newness. The faces, the geography, the climate, the mountains. The customs (my brilliant host gave me a seal-soup). It's very significant, if co-operations are to take place and for something to happen, to ship people into the place, let them feel, see and experience the culture and the ambiance. Nuuk is a modern capital but at the same time, a crossroad where the inuit culture thrives in a sheltered, accommodating environment. This delicate combination, of the new and the old, and the gentle respect it is shown was impressive. The same was shown to the many strands of cultures that flowed powerfully through the capital in an absolutely unforgettable week.

Personally, the organisers made good with their "involving" plans. Before I knew it, I was standing in the Nuuk swimming pool (which is called Malik), introducing artists on stage (or rather, on the poolside) with gusto, people I barely knew existed some days before. This tactic, to throw the journalist almost literally into the deep end made for a much colourful, lived-in experience for me. I didn't just show up and then go home. I was there. A part of the festival.

So, thank you all, at the Nuuk Nordic Culture Festivel. Qujaneq!!! It was absolutely smashing!