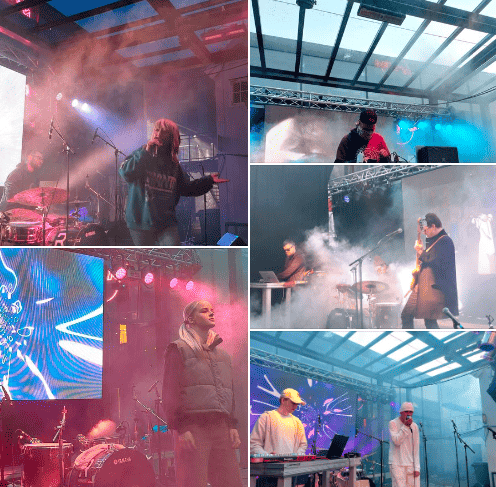 Because of the international nature of Skrapt festival, it's export concerns and to make as much impact as humanly possible, this diary is written in English. Skrapt Festival took place in the lovely capital of The Faroe Islands, Torshavn, on the 7th – 9th July.
SATURDAY 08/07/23
The day was used for sightseeing around lovely Tórshavn, the capital of The Faroe Islands. A mild and cosy town/city of c.a. 20.000 people. For us Icelanders, who think Reykjavík is a bit of a metro, hanging in downtown Tórshavn is a bit like visiting your grandmother. You relax, you are secure, you are resting.

Faroese people were dancing Föroyskur dansur (Faroese chain dance) by the harbour as the sun took over from a somewhat foggy morning and noon. After a wee trip to the countryside I made my way to the Reinsaríið around 18.00 for the second night of poetry reading, organised by Eksil publishing house. Again, some great readings and a whole lot from my fellow Icelanders, including my lovely wife who read from her politically charged Gríseyjar, detailing the sorrows of colonization that The Faroe Islands, Greenland and Iceland had to endure (and are enduring).

The main musical stage was then opened by Nönne (FO), a young R&B artist. He was quite good and set the tone for a satisfying night. It was like there was an injection at one point and an energized, TRUE festival atmosphere took the guests into the long hours of a beautiful, bright Faroese night.
Nönne works with modern hiphop-infused R&B where it's all about gliding on soft rhythms and sound beds, topped with inward looking, emotional lyrics delivered in reserved, whispering rap. Nönne and his music man were all dressed in white and the set was kept afloat from the the first song to the last, quite a feat for an upcoming young artist.
Next up was EMP (FO), a Kosmische-House trio (thank you Jens L. Thomsen for the description!). Consisting of veterans from the Faroese scene (Torleik Mortensen, Knút Háberg Eysturstein og Per I. Højgaard Petersen) the music was a sturdy, minimal ambient house of sorts, drawing the audience in with tasteful krautrock inspired grooves. Exquisite really. Nodding their heads to heroes like NEU! and Krafwerk but driving everything home with solid playing, built on years and years of experience. An album is expected in the autumn.
The Faroese kept on delivering. Nönne was mild and emotional but Jakku was hard, unforgiving and relentless. Dark, industrial electro, laced with world music samples (the brilliant MC, Fríði Djuurhus, the singer from Joe & the Shitboys, called it Kingo-Dub). Jakku was an imposing figure, with a scarf hiding his face and the trip was … a trip, keeping the audience at the edge of their seats, toes, floor, wherever they were situated.

Iceland was next up. The absolutely brilliant gugusar, a "future-person" as I like to call it because she will go far and I can only imagine what will flow out of her in a few years time (she's only 19 still). She took to the stage like Taylor Swift strutting onto Wembley, with a thought out, confident set. She's come a long way in just a few years. Her dance moves were stylish and funny and she goaded the audience on in all kinds of shenanigans. She was alone on the stage, delivering well structured electropop, sometimes slow and dramatic, sometimes danceable and highly energised. 10/10.
A tough act to follow, naturally, but Cell7 and her boys DID IT. Cell7 (Ragna Kjartansdóttir) performed with a band, a drummer (Magnús Trygvason Eliassen) and a DJ (Sverrir Björgvinsson). Also in tow was Jóhann Reynisson, designer of visual backdrops. Cell7 was in stomping form and her irresistibly catchy hiphop got everyone hooked straight away. Eliassen was tight and lively behind the set and Sverrir cool, calm and collected behind the decks. A natural performer, the audience was eating from Cell7's palms.
And there was more. Local punk-bandidos, Joe & The Shitboys, were positively bonkers, starting their set at 180 mph and Hermigervill, the keyboard wizard from the land of ice and fire, sent the skrapt-villagers to groovefilled kingdom come. What a night!
It was indeed the night when Skrapt "sprakk" (blew up)!
Arnar Eggert Thoroddsen, at the hotel 62° Hotel, Tórshavn, summer 2023