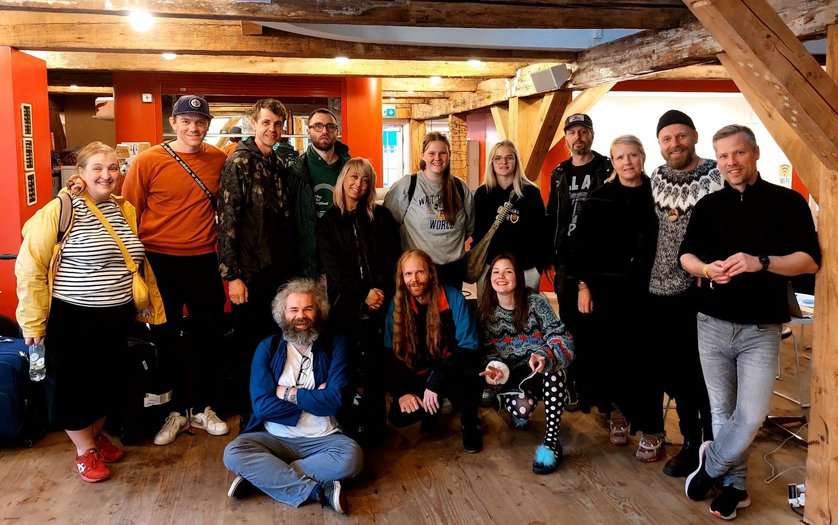 Because of the international nature of Skrapt festival, it's export concerns and to make as much impact as humanly possible, this diary is written in English. Skrapt Festival took place in the lovely capital of The Faroe Islands, Torshavn, on the 7th – 9th July.
SATURDAY 09/07/23
The last day of the festival and everyone is beautifully tired. I have a new word, definition: Connection-fatigue. It's not a bad thing. Often at festivals, especially when you know people and have been there before you are constantly either catching up with old friends or making new ones. In 48 hours you've had c.a. 40 – 50 different small talks and/or deep conversations and it's simply draining. But beautifully so.

I spent the day at the beach in Göta, me and my wife nurturing strong ties with friends from the islands that we've had for twenty years. Just beautiful. I've realised that I've used the word "beautiful" three times now but what the heck … this was a beautiful day in so many ways.

The festival was ended with a pool "party" at the swimming pool in Gundadalur. Lights, smoke-machines and embracing ambient music by Pan Thorarensen, one of the instigators of the festival. People relaxed, floated and chatted and things like these work well. This is how you should end all festivals.

Extracurricular activities like this at music festivals are important. Visit Föroyar and the FMX, The Faroese Music Export Office, were at hand concerning things like these throughout the festival, offering trips and assistance if needed. The music gets a platform but other things as well and all of this is in a sensible circle somehow, bouncing back and forth and strengthening one another.

I believe that this festival is a well placed addition to the Faroese music culture as I implied in the first diary entry (https://arnareggert.is/a-faroese-music-diary-skrapt-festival-2023-1/). Because of the small population the islands are sensitive to new developments in music. As you go further away from the mainstream less people are active in making and creating such music. So a structure of sorts, a point in the calendar, where you can walk into such an environment can egg on and fortify musicians who have an interest in venturing down the experimental road. Connections will be made, ideas will be born. Alone in the bedroom, with no space to vent out, a Faroese experimental musician has no chance of growing or developing. A thing like Skrapt could work as a greenhouse in this respect.

See you next year!
Arnar Eggert Thoroddsen, at the hotel 62° Hotel, Tórshavn, summer 2023